Giving back is part of DANX's DNA
2019, November
Corporate social responsibility is of great importance to DANX and we strive to be a company that our customers and employees are proud of being associated with. It is a big part of the DANX DNA to support charitable causes both for our employees but also in the world. We have donated money to charity cases that support cancer research, and organizations that support girls' education in developing countries. At our summer party last year, we did a competition where the winning team won the price of choosing which charity case DANX should donate money to. They worked together and chose the Swedish charity case Barncancerfonden. DANX is a proud supporter of causes that make a real difference for the people affected and causes within areas where there is a vital need for change.
In 2016 the DANX management decided that they wanted to support the DANX employees directly and because of that, they created the DANX foundation. The DANX foundation is a great opportunity for DANX to support not only our employees in all 6 countries but also the sports clubs they are part of. The foundation provides funding for our employees and their families sporting activities and provides them with opportunities they would not have had without the DANX foundation. Twice a year the employees can apply for the DANX Foundation sponsorship by filling out an application form. In the form, the employees need to explain how the sponsorship will help and what branding opportunities it has for DANX. Our foundation supports all kinds of sporting activities from the European Weightlifting Championship to children's hockey and football teams located around the different countries. Because we are an international company it is important to us that all of our employees have the same opportunities. Equality is a key value in DANX and that is why the DANX foundation was created for all our employees. DANX takes pride in knowing that we are participating in charities that make a difference in the world and that we, on top of that, are creating opportunities for our employees and their families through the DANX foundation.
---
New CEO in DANX Group A/S
2019, March.
Press release 1 March 2019
The leading specialist in spare parts logistics DANX, has as per March 1st 2019 made significant changes in the top management. DANX is a company with growth rates close to 25% in average the last 15 years, with a yearly turnover of more than DKK 500 million, 200 employees and 600 drivers. Søren Gønge founded DANX 26 years ago and has now chosen to step out of the daily management of the company to take on the role as Chairman of the Board of Directors. Read more
Ulrik Find will take over as CEO of DANX Group. "We chose to fill the position with an internal candidate as Ulrik through the last 10 years has shown that he is very capable of managing and developing a complex organisation", says Søren Gønge.
Ulrik Find comes from the position as Managing Director of DANX Sweden, where he has played an essential role in the enormous growth that DANX in Sweden has undergone the last ten years. Starting out as a small office with two employees and handing over a Swedish company with over 80 employees. Ulrik has been in the logistic industry for most of his career.
Ulrik Find continues: "It is with great pleasures, humility and enthusiasm that I take up the post as CEO in DANX. It is a very interesting assignment that Søren Gønge and Bob Thorhauge have given me. I am sure that DANX will continue the growth we have had the last 15 years. We are built on a strong foundation and I look forward to working together with Bob when it comes to the strategic development and continuation of DANX's strong DNA."
---
DANX has been awarded the ISO 14001:2015 certificate for environmental management
2018, April 12.
Last year DANX qualified for the ISO 9001:2015 certificate and we decided quickly hereafter that we wanted to go for the ISO certificate in Environmental Management – the ISO 14001. During the whole year of 2017 we have worked on designing and implementing the environmental management system.Read more
Our most important environmental goal is to reduce our CO2 emission per parcel – you can read more about this here). We also have local goals for each location. We are ISO 14001 certified in all the Nordic countries.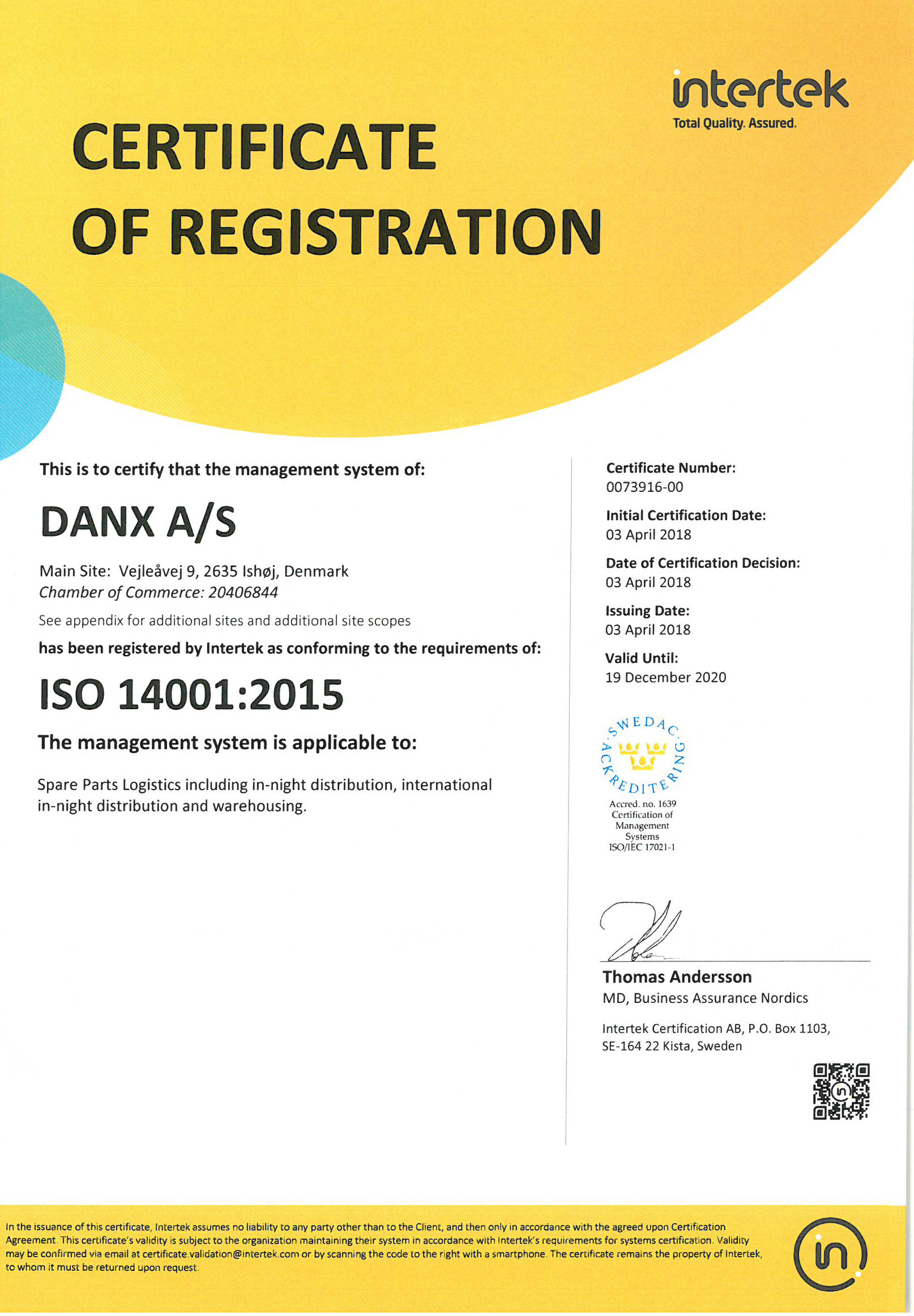 ---
DANX Finland has moved into new premises
2018, April 03.
DANX in Finland has moved premises. As of 1 April 2018 we can be found at Pakkalantie 19 in Vantaa. This new location could not be better for us, we are right next to Ring 3 (E18) and all major highways - also the airport is just 5 minutes away.

The new premises will be better suited for our needs with more square meters – now 3800 m2 -, more loading docks and therefore a quicker reloading of cars when they come into our hub. Read more
Only our address has changed – all other contact details remain the as they have been previously.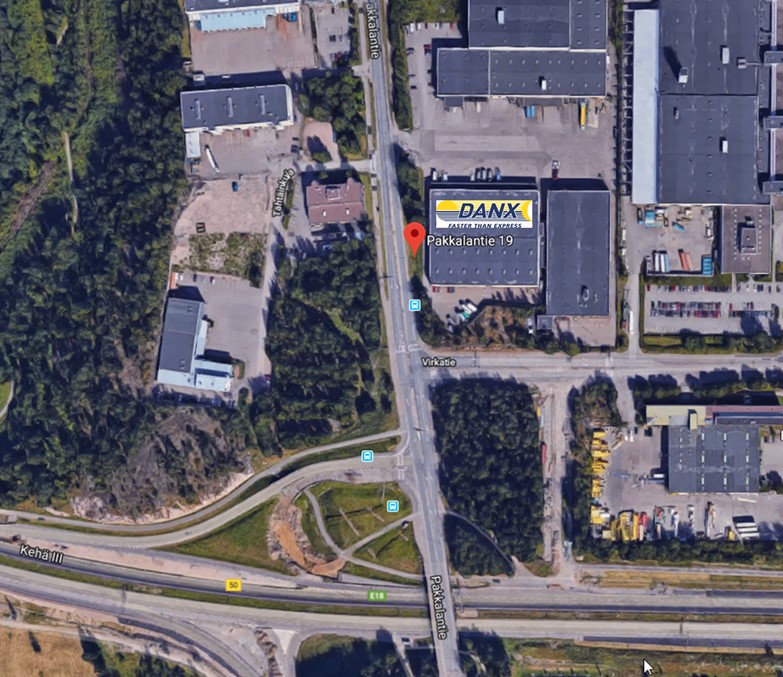 ---
DANX has obtained the ISO 9001:2015 certificate
2016, December 22.
During the past year the entire DANX organisation has worked hard to design and implement a quality management system with the intention to obtain an ISO 9001:2015 certification. Our successful external audit took place from 5-8 December 2016 and the final official certificate arrived 22 December 2016. Read more
Our Quality Management system is implemented at all our sites and all parts of our organisation work according to these principles.
Next step for DANX will be an ISO certification regarding environment (ISO 14001).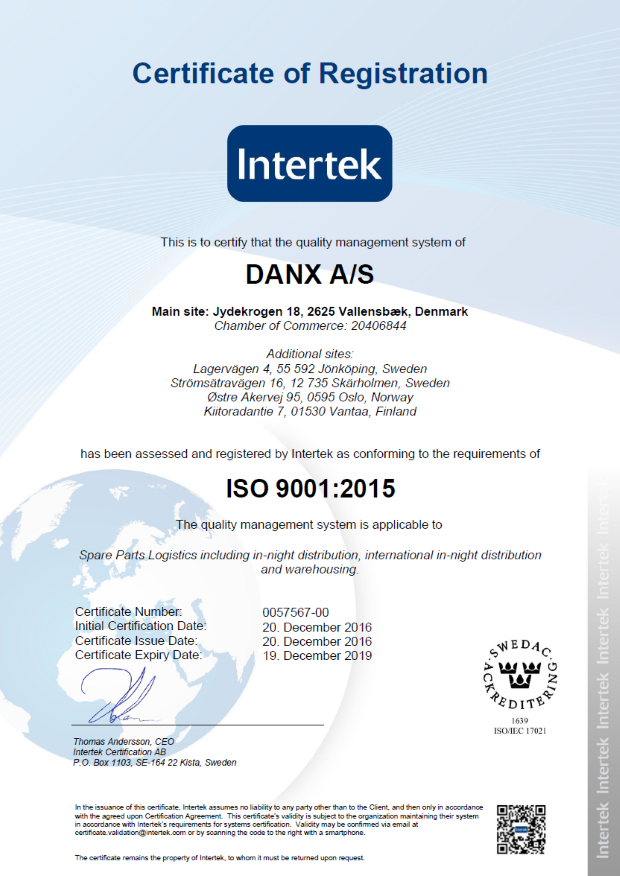 ---
DANX expands again – this time in Denmark
2016, July 21.
With new customers like BMW and others in the pipeline, the premises in both Vallensbæk and Taulov have definitely become too small. After 10 years in Vallensbæk (near Copenhagen) it is now time for a change. Read more
Not being able to find an existing building with the perfect location and conditions for our business, we decided to build our own new domicile in Ishøj (industrial area Winthersminde) near Copenhagen - only 7 minutes from our current premises. The new industrial area, Winthersminde, offers a great location right next to the highway (O4, E20/47) excellent infrastructure and therefore optimal conditions for a transportation- and logistics business.

With over 4300 m2 in Ishøj and an addition of 1800 m2 in Taulov we have created great conditions for welcoming new customers and for accommodating our existing customers even better than today. We will move into the new building end of Q1 start Q2 2017.
---
DANX signs 6-year contract with leading automotive brand
2016, June 29
DANX has won a 6-year contract with BMW Group. DANX has been exclusively appointed to make in-night deliveries of spare parts to the seven Nordic and Baltic countries: Sweden, Norway, Denmark, Finland, Estonia, Latvia and Lithuania. In order to obtain this goal DANX went through a demanding and detailed technical and commercial evaluation and obtained best scores within professionalism, flexibility, service and quality. Read more
From the beginning of July 2016 DANX will provide BMW Group with an extensive spare parts logistics flow from their Nordic distribution center in Malmö, Sweden. DANX will transport all spare parts to more than 300 authorized BMW dealers in the Nordic-Baltic region. Generally, all parts will be delivered in-night to ensure availability to BMW workshops and the best possible service for their end-users.
The spare parts will primarily be delivered through DANX's high-speed road network. It will however also require airfreight to deliver spare parts to the Northern Sweden, Baltics, Finland and Northern Norway within 12-hours from the warehouse in Malmö.
Group Director Bob Thorhauge lead the team that convinced BMW Group: "We were in many ways a perfect match. The scope of the contract is the seven countries where DANX has its own distribution network enabling us to do pre 07:00 deliveries. Most importantly, BMW is a high-end brand focusing on quality and fast deliveries, which perfectly reflects our own position in the logistic market".
---
New Terms of Engagement – NSAB2015
2016, January 7
Check out our new terms of engagement under Terms.
The new terms which are a result of negotiations between the Nordic Association of Freight Forwarders and The Danish Chamber of Commerce, The Confederation of Norwegian Enterprise (NHO) and Federation of Norwegian Industries (Norsk Industri), ICC Finland and Finnish Shippers' Council and The Confederation of Swedish Enterprise have entered into effect as of 1 January 2016.
They differ slightly from the previous terms and you should in particular be aware of the following conditions: Read more
Our liability as contracting party for loss of, deterioration of or damage to goods is limited to SDR 8.33 per kilo (§ 3B). Our liability for delay is limited up to the amount of the freight and for all other losses our liability is limited to SDR 100,000 per assignment (§21). In connection with storage the freight forwarder's total liability is limited to SDR 500,000 with regards to damages occurring on one and the same occasion (§25). Special attention is directed to the network clause (§2), to §28 which states that claims against the freight forwarder are statute barred after one year and to the rights of retention and lien on goods which includes both current and previous claims (§14). Claims for freight etc. must be honoured regardless of the terms of delivery under the contract of sale or freight agreement (§11).
---
DANX wins tender of Nordic warehouse for BSH
2015, Februar 6
A focus on spare parts logistics during the last decade has resulted in annual growth rates on more than 25 % for the entire DANX Group in the Nordics. These impressive growth rates mean that DANX is growing out of its current premises on several locations in Sweden and also that we have just moved to new larger premises in Helsinki. Within the next year or two we will furthermore have to find larger warehouse facilities in Copenhagen. Read more
In Sweden we will be moving both in Stockholm and in Jönköping in 2015. In Jönköping we have just started building a brand new warehouse of 4300 m2.
DANX has already secured a very large customer for the new warehouse in Jönköping. During Q4 2014 BSH (Bosch Siemens Homeappliance) tendered their entire Nordic warehouse operation and invited DANX to participate in the tender. With the new tender, BSH wants to ensure that the entire supply chain of the important technician parts are gathered at one competent supplier. DANX will take over the BSH business as of 1 October 2015.
The new business will bring DANX into a new league of warehouse providers. Where DANX has during the last 10 years become increasingly known and respected in spare parts logistics/in-night delivery, warehousing has mainly been offered as an added service to the transportation business. Going forward we will also focus on developing our offer within warehousing.
We anticipate to hire 10-13 people for this specific BSH operation where we will daily pick and pack around 4.000 parts. A focus on in-night distribution of spare parts during the last decade has resulted in annual growth rates on more than 25 % for the DANX Group in the Nordics. These impressive growth rates will now be further boosted through the establishment of an in-night distribution network in the Baltics as of January 2015.
---
Press release: DANX Group expands into the Baltic countries
A focus on in-night distribution of spare parts during the last decade has resulted in annual growth rates on more than 25 % for the DANX Group in the Nordics. These impressive growth rates will now be further boosted through the establishment of an in-night distribution network in the Baltics as of January 2015. Read more
DANX Baltics will be based in Estonia, Latvia and Lithuania. The headquarter for the Baltic region is located in Tallinn where our Baltic Manager Thomas Askenberg is based. Thomas Askenberg is ready to take on the new challenges in DANX: "I look very much forward to working with the professional colleagues in DANX and together with them open a completely new market for in-night. When I started to work here the markets were not ready for in-night distribution since no one would hand out their keys. Today the market and the customer demands have changed."
Group Director Bob Thorhauge adds: "The fast distribution possibilities gives our customers several benefits like faster availability of spare parts and a better utilization of technicians. Customers want to use their technicians for repairs - not waiting for spare parts."
Bob Thorhauge continues: "Many of our customers are already covering both the Nordics and Baltics from a regional warehouse typically based in Sweden. They have often asked us for the same distribution services in the Baltics as we have successfully developed in the Nordics".
"It is basically a customer demand to establish ourselves in the Baltics. So our challenge will not be to find the customers but to ensure that we will be able to deliver the same high quality as the rest of the Group. We know that adapting to local circumstances can be challenging, but our Swedish born Baltic manager Thomas Askenberg has 10 years of experience with distribution in the Baltics. I trust we are in safe hands", Bob says.
DANX will not only establish distribution flows from Nordic warehouses. There will also be direct flows from European Distribution Centers in Holland, Belgium and Germany both by truck and by flights enabling 12 hours service. These fast solutions will enable customers to minimize local stock of spare parts.