"Working at DANX pushes me to think outside the box"
Having to deal with unexpected challenges as part of your working day is a key ingredient for personal development. And this is something Muhammad Aqeel has indeed experienced throughout his years at DANX, part of DANX Carousel group.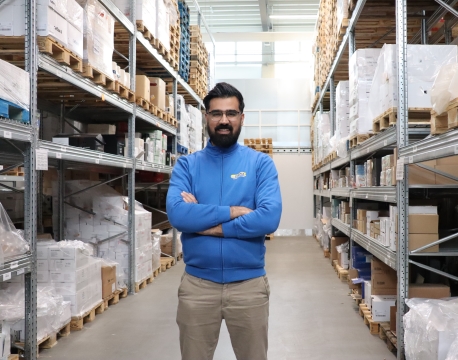 Aqeel has been working at DANX since 2013 when he started as a FSL Assistant. Now, nine years later, he holds the role of FSL Manager, and he leads a team of six people with the responsibility of more than 30 customers. During his years at DANX he has developed a lot and has successfully navigated a range of different tasks and challenges. But why does Aqeel find working at DANX so fulfilling? Read on to find out…
Facing new challenges everyday
Working in the DANX operations often comes with unexpected challenges, and that's what makes every day unique. You never know what to expect when you start your working day, and this is something Aqeel highlights when describing his job as an FSL Manager.
"One day is always different from the other. The environment is very dynamic, often resulting in challenges that you must deal with according to the situation. It also depends a lot on the service we bring to each customer. Each customer has different needs, and we try to be as flexible as possible. But one thing that is common to all customers is that they need their products on time, and we need to make that happen – regardless of the challenges that may arise along the way."
The unexpected challenges Aqeel's team experiences, is just one of the things Aqeel appreciates about his job:
"I really like it because it never gets boring, and you always learn new things. I think that having to deal with very static tasks - where you must do the exact same thing every day - would get very boring. I like that the tasks are dynamic, and it really pushes me to think outside the box and find new solutions, which is a great asset for development – both for me and the rest of the team."
A unique working environment
Other than having unexpected challenges supporting him in his growth, he sees the working environment at DANX as unique.
"When I first started back in 2013, I immediately liked the working environment. I found this was also the case for everyone else – everyone wanted to stay at DANX because of the environment. You show up happy to work every day and are looking forward to seeing your colleagues. We have a very open and friendly culture, and we have each other's back. It kind of feels like being part of a family which makes you want to give back to the company too."
A workplace characterised by growth and high ambitions
Aqeel describes DANX as a good place to work, with great opportunities to grow personally and professionally, which has been the case for him.
"When the opportunity comes and you feel ready for it, you can definitely grow in DANX – both personally and professionally, which has been the case for me."