30-11-2023
Five minutes with Elias Weldemichael, Control Tower Agent
"DANX is a company with a focus on development and growth and that really pays off"

At DANX, our success is not just measured in shipments delivered, but also in the stories of our diverse and talented team members.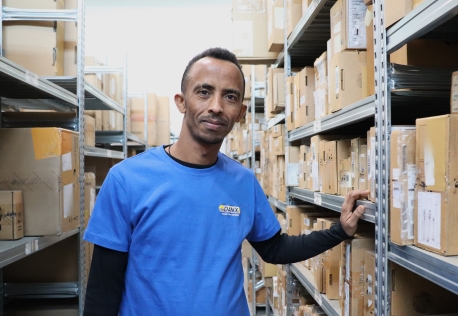 Our dedicated Control Tower Agent, Elias Weldemichael's story with DANX began in 2017, marking the start of a remarkable professional journey at the company. Transitioning from a background in data analytics, Elias now navigates the complex world of route management, ensuring seamless operations for our logistics processes.
If you are interested in knowing what a Control Tower Agent does and why Elias has returned to DANX, you should keep reading…
Embracing a new challenge in the Control Tower
Having previously worked for the DANX FSL, Elias has taken on a new challenge as a Control Tower Agent. Working as a Control Tower Agent in road logistics both involves sorting terminal goods and loading and unloading linehaulers as well as a focus on route management, overseeing the vehicles to ensure efficient traffic flow and timely deliveries. 
"Sometimes the system throws in an unexpected challenge with errors or missing drivers for a shipment, and it's on us to correct things according to the delivery address, ensuring that the goods arrive at the right place at the agreed upon time."
Elias further explains how the Control Tower Agents correct mismatches in packages and the occasional need for rebalancing shipments among drivers to optimise efficiency. When asked what he likes about the job he states: 
"Working as a Control Tower Agent is still quite new to me, and I am still learning. But what I like most about any new job is really the new challenge that I get to take on – and you get to encounter new challenges every day at DANX."
Thriving under pressure
Working as a control Tower Agent in road logistics demands a high level of skill in handling pressure and navigating a dynamic environment. As the nature of the job involves responding to real-time challenges and unexpected disruptions in the transportation network, working under pressure is part of the daily routine for Elias, and, luckily, he thrives in such an environment. His ability to stay cool under pressure, coupled with strong communication skills, are some of the things that make him a great fit for the DANX team. 
"There's always something going on and a new challenge to overcome. I do have the skill of thriving under pressure and staying calm in situations that can feel very hard to manage. I love it and really enjoy working under that kind of pressure."
Returning to well-known grounds
As mentioned, Elias' job as a Control Tower Agent is not the first one, he has had at DANX. Starting off in 2017 as a cleaning assistant and later in the FSL, Elias went on to use his education as a Data Analyst in another company. After a while, Elias returned to DANX, and the return was not only a professional reunion but also a choice driven by an appreciation for the company's values and opportunities. In his own words, Elias expresses his pride in coming back, stating: 
"I am proud to be back at DANX. I appreciate the diversity and getting to work with people from different parts of the World as well as the great network I have built here. So, for me, it is great to return. DANX is a company where working hard and doing your best really pays off and there is a big focus on development and growth which I think is unique."
Looking for a position in logistics? Have a look at our vacancies and see if we have an open position that matches your profile here.
---
09-11-2023
Navigating the Baltic way: Opportunities and challenges of supply chain
DANX delivers spare parts to the entire Nordic region, the Baltics, and Poland – all in less than 12 hours.
---
02-11-2023
Steel and iron import products restrictions: what the new sanctions against Russia and Belarus mean for your business
In response to the war against Ukraine, the EU has imposed huge sanctions against Russia and Belarus, the like of which have not been seen before.
---
26-10-2023
Supply Chain Challenges and Opportunities in the Nordics
The COVID-19 pandemic marked the beginning of a period of global supply chain instability. Though lockdown restrictions have been lifted and borders reopened, Nordic supply chains are not yet out of the woods.
---
25-05-2023
Increase your operational efficiency by up to 34% with our dedicated Sweden-Finland air freight service.
At DANX, we know that every minute counts when it comes to machine downtime.
---
26-04-2023
Five minutes with: Malene Vig Hjarnaa, Chief HR Officer
When starting out your career it is natural to think that you would like to try working with different areas within your profession and possibly also work for multiple companies throughout the years
---
29-03-2023
Five minutes with: Daniel Skov, Strategy Manager
Being able to develop and have an impact is often high on most people's agenda when they are looking for the next opportunity in their career.
---
24-11-2022
How data measurement is helping to reduce our carbon emissions
Understanding our carbon footprint, and our impact on the environment, is high on the agenda of many sectors, but particularly in the logistics industry.
---
16-11-2022
Five minutes with: Muhammad Aqeel, FSL Manager
Having to deal with unexpected challenges as part of your working day is a key ingredient for personal development.
---