"I like working in an environment where you have to make quick decisions."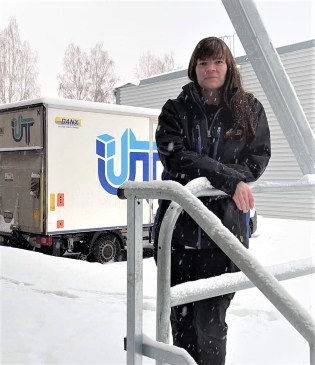 Working with time-critical logistics means that you become part of a fast-paced environment where time is indeed critical and where you are often forced to quickly adapt to new circumstances. However, being part of a fast-paced environment will also provide you with skills that no other environment can – such as the ability to time manage, reach tight deadlines and learn how to be flexible in the moment. This is indeed something our Site Manager in Sundsvall, Lina Melander, recognizes about her role where she wears many hats and has to make quick decisions throughout the day.
Keep reading if you would like to learn more about Lina and her journey in the logistics industry which she has been part of for 11 years.
An industry that comes with opportunities
To Lina, the logistics industry has come with a lot of opportunities for her, which is also why she has stayed in it for many years. 11 years ago, she was hired by a big logistics provider with whom she worked for several years becoming both responsible for the freight in Sweden and Europe and eventually becoming the manager for northern Sweden. But after having worked in the company for many years it was time to make a change and then another opportunity came along:
"I was contacted and asked if I could be interested in knowing more about DANX and I said yes. Then after having a meeting, I completely fell in love with the company, and it did not take me long to say yes to the offer."
Wearing many hats
As a Site Manager, Lina is wearing many different hats and is responsible for everything from managing haulage, traffic planning, and staff management to having contact with the customers and working with sales. But as an in-night specialist, a lot of things can happen during the night which Lina is fully aware of when coming into work:
"I have chosen to work during the daytime, so when I go into the office, I am aware that a lot of stuff could have happened during the night. So I always start out with understanding what has been happening during the night, if there are any issues and whether it is something that needs to get fixed here and now. So, I always start my day with planning and getting that overview – because every day is very different and comes with a lot of decision-making."
Thriving with quick decision-making and problem-solving
During her long career in logistics, Lina has tried many things – she is an expert in most of the different transport techniques and has planned many routes during her time in the industry. But what she really enjoys is the quick decision-making she has to do in DANX:
"DANX is different from many other logistic providers because it is time-critical, meaning that everything is going very fast, and I like it that way. I like having projects that start now and end in three weeks and I like making quick decisions and problem-solving – it is some of the things that keep me going and put a smile on my face. I like seeing things happen and feel like my voice makes a difference in DANX."

Making a difference and being heard
When asked what she likes about working at DANX, Lina especially stresses the fact that she feels that she can make a difference and is being heard:
"I feel that my ideas are being taken into account and I can see that I am making a difference – which is something I have not felt this much in my previous jobs. I cherish the culture we have in the company and that it is not strange calling up your colleagues to ask for help or assistance. I really enjoy coming to work here every day."
If Lina's story makes you want to pursue a career in logistics then have a look at our vacancies here.